If you have ever abandoned an in-store purchase because the checkout line was too long, you are not alone. Research shows 33% of customers will forgot a purchase if the line is determined to be longer than 5 minutes. It is estimated that the average person spends 2 years of their life in line!
With increased competition and on-line options, it is imperative for retailers to convert the maximum sales opportunities possible and do so for the least amount of cost. Why go through the effort of bringing the customer to the store and then lose the sale? Since 35% of retail sales are generated during weekends and holidays, it is critical for retailers to find solutions that make the checkout process quick and secure. Consumers require a pleasant customer experience if they are expected to return and shop during peak hours.
Introducing TrustTag's Self-Checkout solution, which enables retailers to operate their stores with high efficiency, inventory transparency and lower labor costs!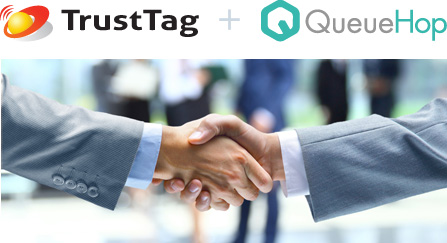 TrustTag has partnered with QueueHop, a world leading provider of mobile self-checkout, to provide a cost effective, fast exit, high security solution which changes the way people shop. The partnership combines TrustTag's 12 years of manufacturing and engineering experience in EAS and RFID with QueueHop's technology infrastructure and intellectual properties, to deliver a fully integrated supply chain for retailers.
So how does Self-Checkout work? The process is quick and easy.
Customers pick up the secured items they wish to purchase and scan the tags QR code with a mobile phone which links to online payment. Once the item is paid, customers remove the security tag at the kiosk which automatically identifies the item as purchased. If identified as an unpaid item, the kiosk will not allow the security tag removal and sets off an alarm off while exiting the store.


With TrustTag's Self-Checkout solution, retailers speed up the checkout process and reduce cart abandonment. Personnel can be reduced or cashers can be re-allocated to provide improved customer service. Furthermore, with the help of our RFID-powered security tag, customers can also check on merchandise availability and receive product suggestions based on their past shopping patterns. Inventory is conducted with a handheld RFID reader which is easier, faster and more accurate than traditional methods.
Advantages of Self-Checkout

Efficiency and Speed of Checkout – Customers can checkout and pay for their purchases with added speed. Rather than dealing with long lines that get backed up with customers desiring to pay, consumers quickly make purchases by themselves. This is especially helpful during peak hours when stores experience a large influx of customers. Self-checkout reduces the length of checkout lines which increases customers satisfaction.

Reduce Cart Abandonment and Increase Sales – With a quick and pleasant checkout experience, carts are not left full of goods and sales are increased. Retailers convert and capture the highest percentage of sales possible.

Self-Checkouts Take Up Less Space – Since multiple kiosks can be placed into a relatively small area, stores can take care of customer transactions with minimal space.
Fewer Employees to Pay or Increased Customer Service – Retailers now have the option of decreasing payroll as a single employee can monitor several kiosks or maintaining the current payroll and providing increased customer service.
Contact us now and add 2 years to your life!